System comparison Pi4, UnAmiga and DE10 Nano
Firstly it is Important to understand this article is written to try and convey options when buying a system for one of my cases but I hope it will help generally. Also I am mostly interested in how it benefits the Amiga user.
IMPORTANT, these prices below do not include the OS licenses which are sold seperately. Plus, these are proposed prices but may change if factors out of our control force us. They also include VAT.
A key decision is between emulated as in Pi4 or FPGA which is chip recreation. Both offer amazing functionality but different strengths and weaknesses. The main difference is emulation offers huge performance increase over original hardware whereas FPGA is chip accurate so runs at existing system speeds but chips perform at accurate speed characteristics of original hardware, so where Amiga had large scrolling text and objects in demos, with FPGA you get the same silky smooth movement, whereas emulation is not as good but program run tens of times faster than fastest Amiga. Pi4 emulation also offers excellent RTG performance and great integration with modern peripherals that are lacking with FPGA for example mouse scroll wheel works in emulation.
Not all FPGA chips are equal, this comes down to the number of gates available, memory and clock speed.
UnAmiga ITX - For the Amiga Purist
(Board only £199 with Mounting Kit £229)
For a Stand alone Amiga this is a great lowish cost option for games, demos, music and some applications. Relies on having Pc with emulator to transfer files back and forth although once setup the additional serial network (not tested) should help here.
It uses a customised version of the MiniMig core that has been maintained over the years and is stable. With next generation UnAmiga due to larger FPGA gate size it can have RTG which is a game changer.
Overall
I really like the feeling this system gives you when using and the fact it has AGA but can switch chip sets for compatibility is an absolute bonus. Best of all is the demos runs so well and smooth as the original Amigas. Can run some other non Amiga cores. A great second system next to an emulated setup for when you just need the accuracy of FPGA.
Performance
With AGA, 2mb chip and 20mb fast ram this performs just like an A1200 with say a 50mhz CPU or as Sysinfo would say 2.1 times A3000 speed which is enough for a lot of applications including most games and demos unless high performance is required.
Pros
Low cost entry
Accurate Amiga emulation
AGA, OCS and ECS
New versions larger FPGA 55k gates and RTG
Scroll lock button activates flicker fixer
2mb Chip and 20mb Fast ram
Can run some other cores
Runs relatively cool so no fan or heat sink required due to lack of Arm core
Cons
No battery backed up clock?
No Network although serial network can be added but slow (not tested)
Difficult to get data onto system without an emulated system as well for file transfer.
Cannot run all cores due to size of FPGA
Must have PS2 keyboard and mouse
No USB support
DE10 Nano (Mister) - Multiple Retro computer/Games system
(MiSTix board only £169, with mounting kit £199)
DOES NOT INCLUDE DE10 NANO or Memory board
Picture is a prototype and final version has changed a lot.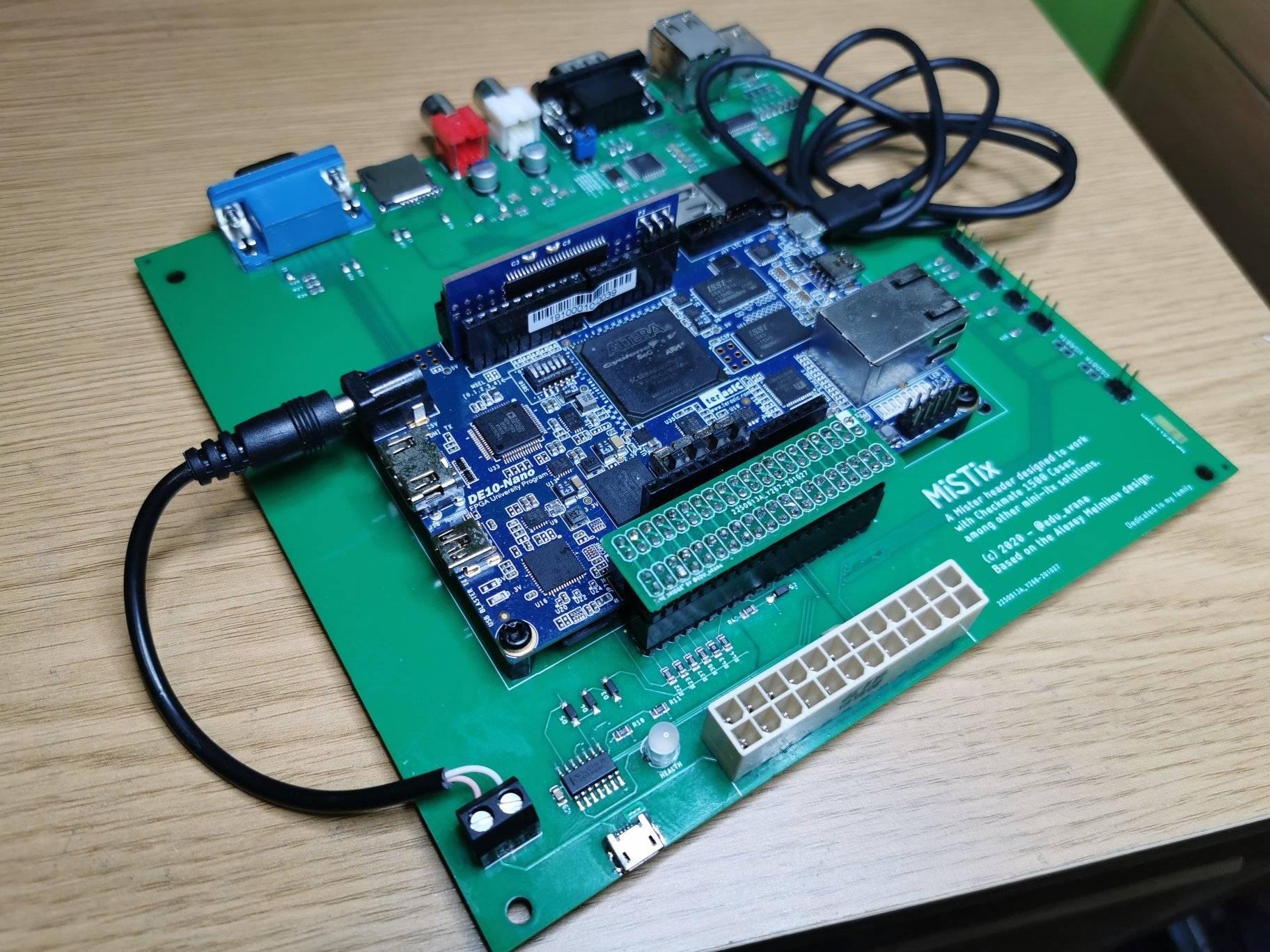 This board is the go to for FPGA recreation of retro systems and has the biggest community creating some amazing system cores to allow you to relive the older games consoles, arcade games and over 50 computers by just switching a core in the menu. As an Amiga it has a nice balance of performance and features and performs at 2.8x A3000 performance but with AGA and RTG.
Overall
Possibly the best balance of price, hardware accuracy and features of all FPGA boards
Performance
Amiga performs at 2.8x A3000 according to Sysinfo and the 486 core runs at 90mhz.
Pros
ARM support CPU enable USB support, networking and much more.
110k LE's so lots of room for computer system or game cores
Amiga RTG allowing no flicker graphics card modes with Picasso 96 drivers
Network access to populate the system via FTP from other computer.
Display filtering enable old bitmap game to look really good, Bicubic/scaling filter is my favourite
486 emulation running at 90mhz is very impressive with VGA/SVGA output for Windows 9x compatibility and DOS gaming.
Over 50 computers simulated including ARM based Archimedes
Cons
Much higher price than UnAmiga and needs optional minimum 32mb static ram module for general use (higher for Neo Geo core) although 64mb and 128mb available and may be necessary.
Runs hot under load and so a heat sink and fan is recommended.
Pi4 2-8gb
Fitting kit Only £69 (Excludes Pi4)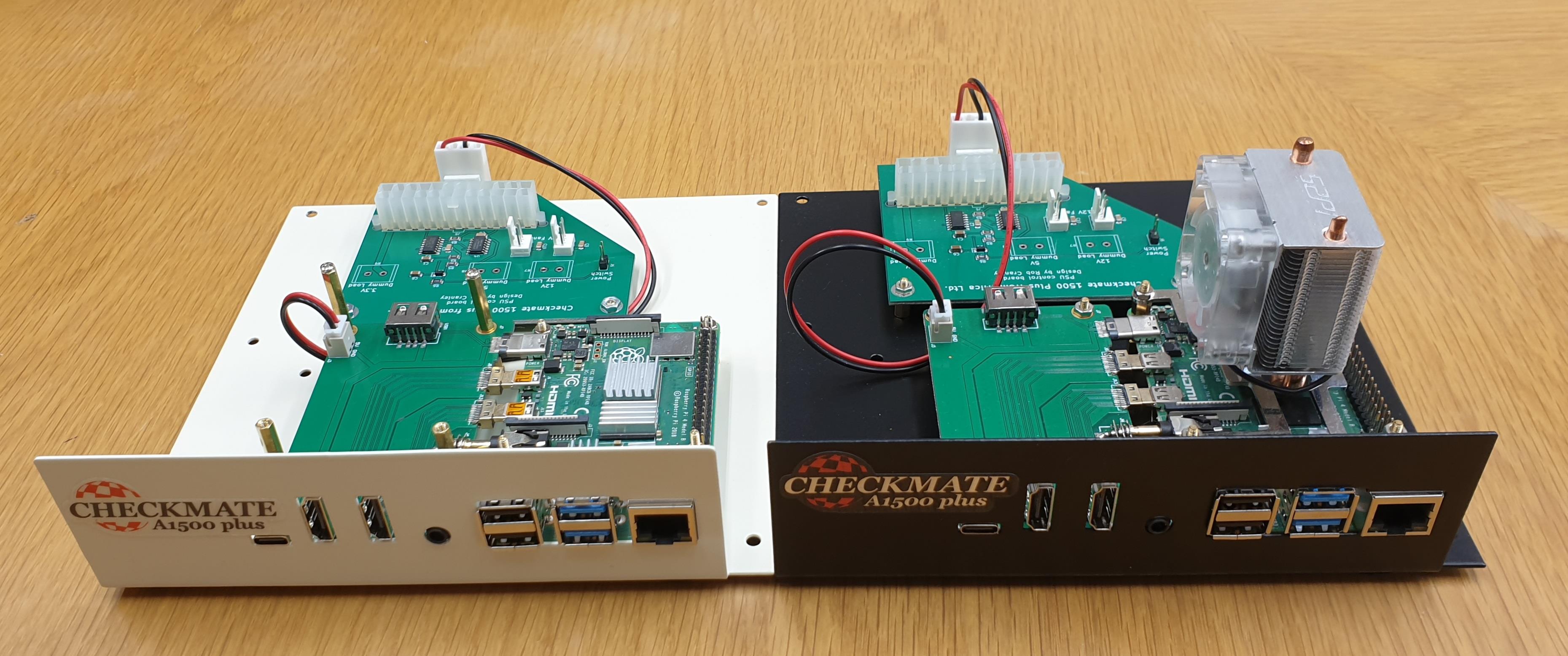 The Raspberry Pi4 is possibly the ultimate setup for the retro fan if performance and ease of use are the criteria. It has been the basis for most Retro emulation systems for quite a while now and can run a huge amount of old systems including some fairly powerful 3D engine based retro hardware like the PS1, Nintendo 64 and Sega Saturn games which are often perfectly upscaled to higher resolutions.
Overall
If complete accurate simulation of the retro machine is not your thing then it is the obvious choice. Add to the Pi4 the Ami-Hybrid system that enables the most powerful Amiga experience outside of the usual PC emulation systems, then you will be in Amiga emulation heaven :-)
Performance
Amiga emulation performs above 200x the speed of an Amiga A3000 according to Sysinfo.
Pros
Very fast emulation performance, 1000mips in Sysinfo, 200+ x A3000
Linux based emulation
2gb (fine for Amiga) up to 8gb
With Ami-Hybrid you get best of both worlds
Cons
Not accurate emulation like the simulated hardware created in FPGA but much faster
Comparison chart for all three systems