Products are now excluding vat unless ordering from England, Scotland or Wales.
Checkmate Displays an overview

Only for Kickstarter backers until Q2 2024 - get on mail list, link at bottom of page !!
19" on left and 17" on the right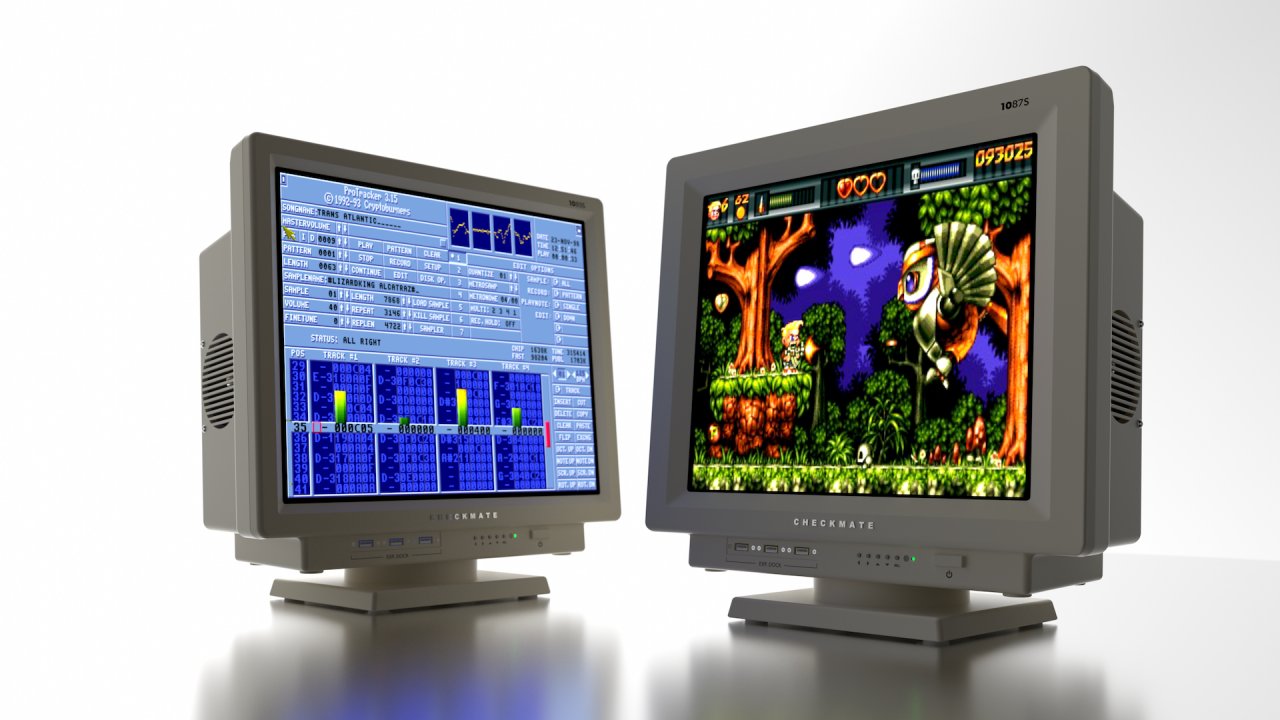 Checkmate 19" IPS Retro Monitor Overview
What we are building is a modular display platform to take us into the future of retro computing and gaming or as we say, "Yesterday's Technology Tomorrow". It's the base on which to build your own future proof display solution based on what you need, and with great build quality and good looks. And it's flexible and upgradable enough for it to last you a lifetime.
"Checkmate really helps in keeping the Amiga alive and relevant. Professionally made new hardware products like these are so encouraging to see. The monitors give a clear and vivid display, providing an ideal all-in-one retro computer solution."
Amiga Addict Magazine
Fantastic video from Nostalgia Nerd
Kickstarter Overview - Short version
CRT displays of the kind we all grew up with are terrific displays, but they come with a price. They are not modern tech and as such they are expensive and difficult to maintain, like classic pinball machines or arcade games. We knew we had to come up with a better, more future proof solution going forwards and what we've designed is the Checkmate Retro Styled Modular IPS Display platform. Modular inputs and modular outputs.
Modular outputs - it doesn't come with a panel as standard, you have to add that afterwards depending on what you need. We had to do it this way, start with a base and add options. It's the only way to be all things to all people.
What you choose ultimately is up to you but we have a panel recommendation you can just go with which adds just $150 to the finished price, but if you want to go further we'll handhold you through the process and give you our best information to help you make that decision.
Modular inputs - it's also modular in the sense that we can add inputs (via cartridges we call "pods") to add all old and new and future display inputs: RGB, composite, SCART, S-Video, RF, HDMI and everything else. Either we have a solution now or there's one in the pipe for later.
So on this platform all inputs and outputs are all customisable, this is the whole point and why it's a premium product. This is why we are providing you with a base and allowing you to choose your options. No person is the same and no setup is identical. There's so many variables, we just had to make it flexible.
The start of this system, this flexibility, is the base product, the beautiful retro styled case and the chassis to hang all your options on. All we need to bring off this miracle is your support.
KICKSTARTER BACKERS ONLY - So remember you will choose and pay for your choice of panel later on, for now the display panel is not included in the lowest tier reward price. Just so we're clear.
Looks are Important but not everything
While our platform isn't intended to be a CRT replacement, of course not, we've tried as far as possible in developing this platform to design it sympathetically. We hope you agree that our monitors will look good on top or beside any of your old computers or consoles.
It doesn't stop with look and feel though. With the new hardware expansion possibilities we've baked in you can go beyond what is possible with normal panels and most CRT's.
Form and Function
Looks are important but having the physical case depth of a CRT when there's nothing functional to fill it is just pointless and cumbersome and expensive to ship. Using our plug in modules, called pods, we expand the base or core system. We hope that in future, as has happened with our previous Kickstarter for the Checkmate desktop computer cases, users will eventually begin to build their own products for this platform.
Why not a CRT?
We get asked this a lot, and as an owner of a lot of CRT's myself I know the attraction. Short answer we'd love to, but the reality is you cannot get CRT tubes anymore. I thought we had found a couple of suppliers who advertised on the internet but they were old sites and unavailable. Old and unavailable basically says it. We had to find something more practical and future proof.
OLED may be a possibility but again finding 17"-19" 4:3 OLED panels is almost impossible. We will try and offer one as an option if it becomes possible.
(If LG or SAMSUNG are reading this, please make our day.)
Modular System
As we said above our monitors have a modular design that allows users to upgrade functionality and input types as required. You can even make them into an AIO or "All In One" computer by attaching a small form factor computer like the MiSTer, Raspberry Pi or any other SBC or FPGA solutions inside the case.
This short video shows how the standard monitor fits together. Please note it does not show cabling or sound absorbing material and is just an overview.
DEEP DIVE: the Display Platform of the Future
(Note: Beyond this point is a hard hat area. This video is 75 minutes long, but we've indexed it so if you wish you can click through to Youtube and navigate the various sections.)
IMPORTANT : This product has evolved and massively improved since this video.
What is a Retro monitor?
How did we choose the specification for this display platform? All users have different ideas about this but for us, as users, they are as follows:
Look Good - When placed on top of a computer or next to a console it must look right, not retro for its own sake but reproducing the DNA of historic devices.
Apple II GS Image
Great Sound - With the built in German designed 3" speakers and sound absorption foam, these speakers can outperform most monitor speakers.
15khz, 50hz and 60hz - These monitors automatically support 15khz modes in component, composite and RGB scart with our GBS-Control Pod. They also switch between the Pal 50hz and NTSC 60hz modes automatically.
5:4 and 4:3 Display options - They must support both 5:4 and 4:3 aspect ratios to match existing old system displays. Inputs are the Secret Sauce. Crucially they must be able to cope with the 15khz video modes which no longer exist in modern mainstream panel technology. This is the main reason why our monitors are so important.
Note: People often say they want a 4:3 monitor, especially in countries where 4:3 was the default. However, in PAL regions the 5:4 format is more common. Also PAL video displays are 5:4, for example the Amiga genlocked video output 720x576, where the NTSC displays would be 4:3. You should note as a workaround if you have our 5:4 monitor the firmware can also give a perfect 4:3 mode with small black bars (aka "letterboxing" above and below which you can scale to fill the screen.
Latency for gamers - always the first question from gamers. The displays must be as low latency as possible, which means the display must draw as soon after an input as possible or fast moving games can become uncomfortable or even unplayable. Here you can see the lowest point on the screen lag test using HDMI input.
To put this in perspective this is less than 1/60th of a second lag/latency. Not sure if we can even see this, and of course it cannot compete 100% with the 0ms lag of analogue CRT's. But it's the best it can be and it suits us fine.
Apple II computers
People have mentioned there is nothing here about their machine from the Apple II enthusiasts group. So I though I would post this video here as well as there.
Why IPS over cheaper panel types?
This video demonstrates why it's worth the extra money for IPS, although to be honest the video thumbnail says it all.
More information and final specifications to come once we are shipping !!